S1, Episode 1: Interview with Brandon Brown, Co-Founder of Media Whisper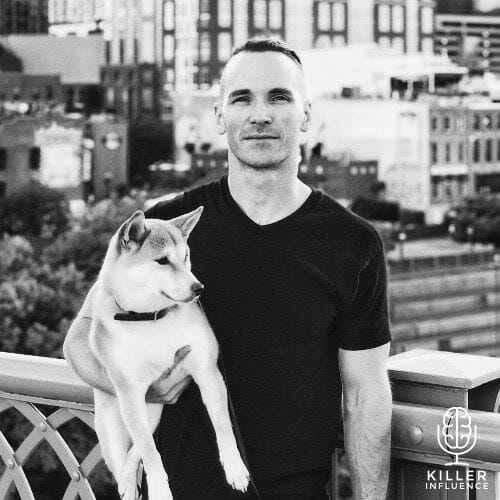 In Episode 1 of Killer Influence, Alexa and Will interview Brandon Brown, co-owner of Media Whisper and guitar player for the touring band Veridia.
Brandon began marketing in high school as a member of multiple street teams, distributing free promotional materials for bands and other events. In college, Brandon was a Business Major with a Music Minor and interned with Southwest Airlines, which then led to him to be hired after graduation.
5 years later, Brandon left Southwest and co-founded Media Whisper, a social media marketing company founded in Dallas, TX and now based out of Nashville, TN. Media Whisper has worked with dozens of the nation's largest music companies, venues, and festivals, including Live Nation, House of Blues, ZiegenBock Music Festival, and Dave Chappelle Live.
"I think you have to be a little crazy to start something great… For me, the driving force behind any risky decision that I've made is… [I ask myself]: Am I going to look back at this moment when I'm 50 or 60 years old and wonder 'what if?'… I don't want to do that." -Brandon Brown
When asked about his experience transitioning from working at Southwest to starting Media Whisper, Brandon says it was a wild ride. Because Brandon has been a performing musician throughout his journey as an entrepreneur, he split his time "crunching numbers by day and writing music by night." During the interview, he discusses his ups and downs in the music industry, as well as the positive impact Southwest Airlines had on his growth as a leader.
For current and future leaders alike, Brandon recommends the book Lead With Love because it encourages company culture, something many of us do not often think about. In addition, for small business owners he recommends The E-Myth Revisited on how to create processes in your business so you could hand your operations manual to someone and they would be able to run it.
Something we ask every Killer Influence guest is their morning ritual. Brandon's is: Eating a bowl of Go Lean Crunch, making a cup of pour-over coffee, and walking his dog before getting into his day!
To connect with Brandon, head to www.mediawhisper.com and www.veridiamusic.com.