There are many things to take away from David Fincher's 2010 film "The Social Network." Jesse Eisenberg's uninterrupted opening monologue; Andrew Garfield's amazing outburst on flip-flops; Brenda Song absolutely thriving. Another takeaway, though, is that Facebook is a large and wild machine, born of small (and pretty wild) origins.

Facebook has evolved dramatically since its inception, reaching a point of being so woven into our culture that it has sparked conversations around democracy, privacy, and data collection. Through it all, though, Facebook still hasn't seen a decline in viewership. Most recent stats indicate a worldwide usership of 2.7 billion.

Originally, like most social media platforms, posts were laid out chronologically. Instagram, Twitter, and Facebook have all adapted to more intentional designs (with relative newcomers like TikTok following suit). It's a word that often comes loaded with implications and confusion: the algorithm.

Facebook's algorithm is designed to put content in front of the people for whom it makes the most sense. This sounds pretty vague, but if Facebook has done a good job of anything since its creation, it's figuring out how to utilize user interests to their advantage. Facebook is able to gather some mind-blowing insights with data — what kind of ads we like; if we are more drawn to text, video, or photos; who our closer friends are; places we want to travel; bands we like and don't like; clothing companies that we can't resist.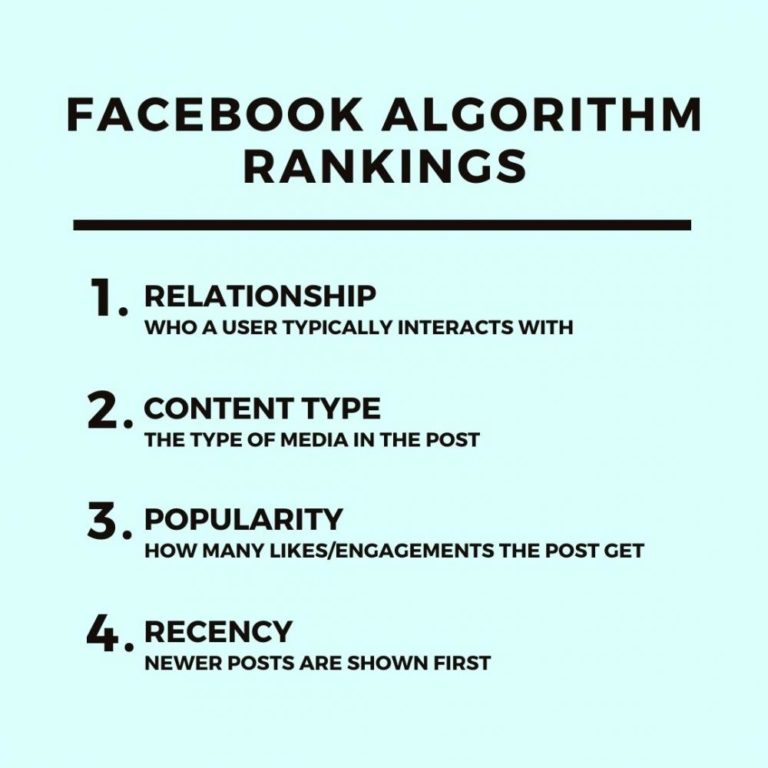 What does this mean for marketing and advertising? Facebook describes the current form of its algorithm as a way to prioritize "meaningful interactions," which has shifted responses to organic and non-paid content. While this type of content is great for general awareness and building a brand (both aesthetically and through content), organic posts are significantly less likely to get a potential customer to convert. Previous stats estimated a reach of 2-6% of a page's total "fans" on a non-paid post; that number has dropped even closer to 1% in more recent studies. Additionally, while overall they have been wildly successful on Instagram (and an embarrassing failure on Twitter), skip Facebook stories. Since these posts are not part of the newsfeed, their insights will typically be very different, and even their algorithmic ranking isn't the same. Focus efforts on that main feed.
Ultimately, the most recent iteration of the Facebook algorithm means that while many things have changed, the core of advertising on the platform is still the same: the best thing a company can do is know its audience. Post when your followers are most active and online. Do carousels tend to yield great results or video? Spend some time exploring and learning, and develop a strategy from there. While there are still many many question marks about what's going on behind the scenes (and behind the screens at Facebook), marketing is still marketing, and we all just want to get our product or service in front of the people who are most likely to join the party.